We are committed to our customers first and foremost, and we support this commitment by providing a high level of service, unmatched expertise and a range of dry vans, refrigerator trailer and flat beds capable of meeting virtually any transportation challenge.
To date our company currently possesses an optimum fleet of 60 tractors and 100 trailers comprising of 48, 53, tandem, tri-axle, logistic and air ride trailers, flat beds and refrigerators. Above all we are strictly in compliance with the requirements of both USA and Canadian Authorities coupled with the mandatory insurance requirements: Cargo Insurance and Automobile Insurance. We can provide driver 'teams' as well to ensure your time-sensitive cargo is delivered exactly when it is needed!
We also have extra 53 Dry Van trailers in our fleet for pre-loading. This helps avoid any delays and will give the allowance to deliver loads on a timely manner.
Some other benefits we provide include:
Straight trucks to air-ride 53 trailers
Full logistics control devices
Fork Lifts and pallet jacks
Machinery moving equipment
Protective coverings, pads, straps
Refrigerated vans
53 Air Ride Dry Vans Specifications
| | |
| --- | --- |
| Type | Logistic Trailer |
| Length | 53 feet |
| Width | 102 inches |
| Hi-Cube Van Height | 110 inches |
| Tare Weight | 15,000 pounds |
| GVW | 45,000 pounds |
| Capacity | 3800 cubic feet |
| Suspension | Air-Ride |
Other Options: Roll or swing doors, load bars, straps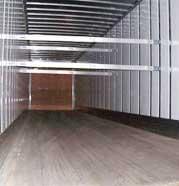 Recognized for dedicated operations staff, specially equipped trucks and trailers, and leading edge computer software, we can assure our clients of safety, security and expedited schedules with time- definite arrivals.